The 1200-hectare Jaguar Ecological Reserve is federally registered with the National Reserve of Natural Heritage. The Reserve was created in 1999 with the help of the non-profit Focus Conservation Fund. Its owner, a local Pantaneira family, has pledged to preserve it  and the lodge's profits are reinvested to buy more land for the Reserve.
The Reserve is located in the Northern Pantanal at Kilometer 110 of the Transpantaneira Highway. In the dry season (May-November), it is about a three-hour drive from Poconé and a four-hour drive from Cuiabá. It may take longer in the rainy season (December-April). We are happy to pick up guests from Poconé and Cuiabá. Travelers who have made independent arrangements for guides and drivers are also welcome.
Guides
We are proud to employ only experienced English-speaking guides. This guarantees our guests an unparalleled experience on the unique culture and biodiversity of the Pantanal. Our guides offer a full range of  activities – from birdwatching to nature walks through the forest, from wildlife drives to fishing and boat tours. Guides take scopes, field guides, and recordings to aid in locating and identifying wildlife. Guests should stay at least two nights to make the most of their trip. The average stay is three nights.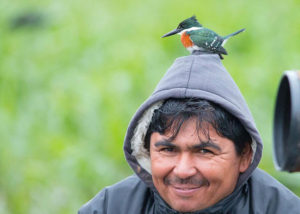 Eduardo Falcão is the only Pantaneiro lodge owner and guide in the region. He was born and raised in the Pantanal. Son of a jaguar hunter and farmer, Eduardo grew up with a deep awareness of the Pantanal's culture, history and wildlife and is happy to share with his guests. Eduardo speaks English very well. In 2003, Eduardo traveled to the United States to raise awareness about the threats to culture and biodiversity in the Pantanal. He is an experienced birder and intimately familiar with hundreds of species in the Pantanal. Eduardo is also available to guide trips in the Amazon and Mata Atlântica do Brasil, where he travels several times a year.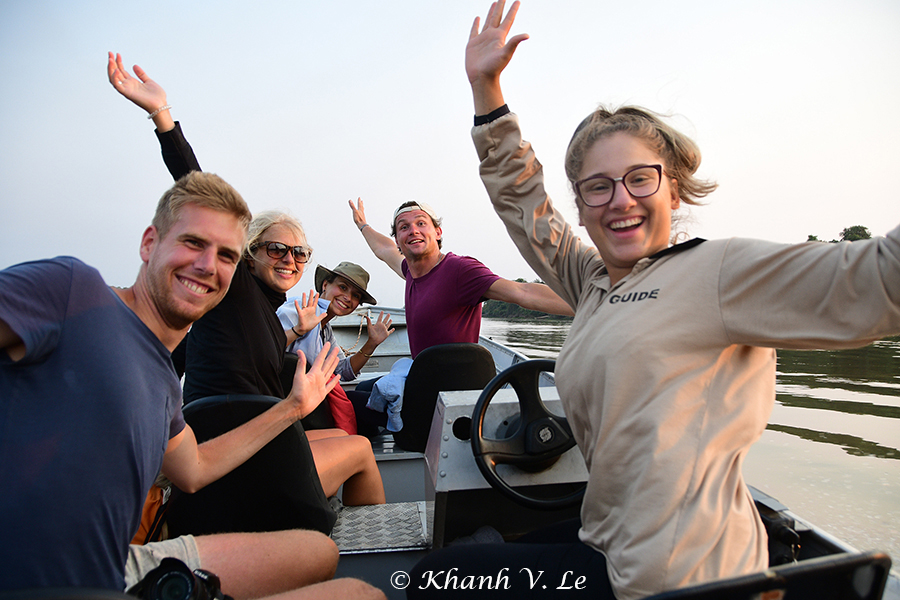 Eduarda Fernandes comes from a family of doctors and lawyers but has found her passion in jaguar scouting and wildlife tours. She is Eduardo's daughter-in-law and with him as a mentor, Eduarda has become the first local female boat driver and guide. Her youthful spirit and determination to provide guests with the best experience reflect the Jaguar Ecological Reserve's priority and practice.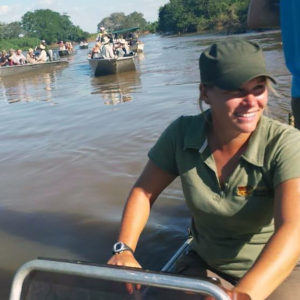 Abbie Martin is an American zoologist and founder of the Jaguar Identification Project (JIP). Abbie specializes in animal behavior with a focus on jaguar ecology. After visiting the Northern Pantanal as a college student in 2013, she became infatuated with the sheer biodiversity of the Pantanal, which inspired her project. JIP uses citizen science as a means to study individual jaguars in the Porto Jofre region. Throughout her studies and practices in the Pantanal, Abbie has become a knowledgeable naturalist and well rounded bird guide.